HP Monitors & Accessories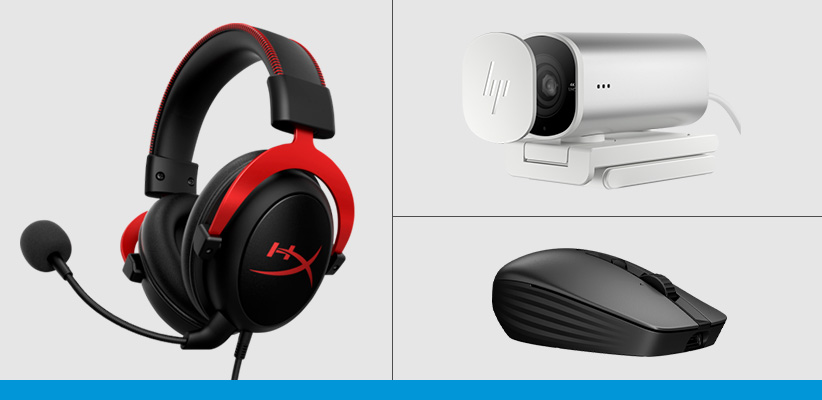 Holiday Deals
Save up to 84% on select gifts for everyone on your list.
Get FREE shipping and extended returns through January 15th.
Explore our exclusive brands
THE BEST PC ACCESSORIES AT THE BEST PRICE
Looking for the right tools to complete your desktop PC or laptop setup? Whether you need the perfect USB microphone, a comfortable keyboard with RGB lighting, or just some product recommendations from your favorite HP brands, stay plugged in at the PC accessories store.
If you're curious about the latest hardware hitting the shelves at HP, try our new arrivals section for an overview. From combo deals to new monitors, buying the latest products can make a big difference if you want a good price on long-lasting gear with exceptional features and functionality.
UPGRADING AND EXPANDING YOUR WORKSPACE
From gaming monitors to big-screen displays to beef up most laptops, our vast selection of monitors has what you need for outstanding visual output. Enjoy better fidelity if you want an upgrade from game consoles and high dynamic range options for optimum contrast.
DOCKING STATIONS AND HUBS
Docks and hubs are another important purchase. Packed with USB ports and designed for use with different setups, docking stations are a great way to connect other devices to your computer. Add extra displays, charge your phone, and connect your favorite peripherals with ports including USB-C, Ethernet, DisplayPort, and HDMI.
MICE & KEYBOARDS
When comfort and usability are a top priority, you need to shop for mice and keyboards. Look for fun gaming keyboards with colorful lights and a wrist rest, or try wireless a Bluetooth mouse and keyboard set for extra freedom. Even find complete mouse, keyboard, and monitor combos so you can find a quick match for your new computer.
SOFTWARE
The HP Store is home to competitive prices on the latest software, from audio production tools to HP's exclusive Wolf Security systems. We can also help you buy a license for a new operating system or office suite for your PC.
WORK HOW YOU WANT, WHEREVER YOU WANT
Not everyone works the same - some of us have a favorite headset, others a cherished lumbar pillow.
STYLUS AND PEN OPTIONS
Stylus pens are one of the most important inputs for touch screen displays, and we offer a number of standout options at HP. Get creative and use yours to draw and write, or use it as a way to browse the web with a few simple swipes.
CALCULATORS
For accuracy, some users know there's no replacement for a classic solution with the benefit of the best HP technology and design: calculators. Enjoy a variety of styles and special features, with models designed for real estate calculation, accounting, and general math.
HARD DRIVES AND STORAGE
Need more storage space? Internal and external storage solutions are an easy way to go beyond your local drives or cloud storage solutions that require a strong Internet connection.
EVERYTHING ELSE YOU NEED
We also have all the tools necessary to protect and use your devices on the go. Shop bags and sleeves for travel gear, chargers and adapters for power supplies, as well as cables and components for connectors.
COMPLETE YOUR HOME OR OFFICE
Printers are a key part of many desk and workspace arrangements, and specialized applications often require unique printer accessories. We offer a huge variety of replacement parts, maintenance systems, and more to help you service compatible machines.
SMART TECH
Redoing your home workspace or office to include more smart technology? Check out our smart home section for ways to streamline your lifestyle and workflow, whether it's customized lighting or a smart thermostat.
BUSINESS ACCESSORIES
Want to narrow your search to professional gear and office supplies that fit easily with your favorite workroom or office space? Jump straight to our business accessories section.
SUPERB A/V OPTIONS FOR MORE THAN JUST MUSIC
No one does audio, video, and multimedia better than HP - whether you need a good microphone for seamless collaboration or a VR headset for deep immersion. You can also find great HP deals, with discounted combos that include mice and performance gaming software from HP OMEN.
Enjoy high-performance headsets and mics at a competitive price, and one of the best overall A/V selections in the world. Use your standard headphones for gaming with friends, then switch over to a high-sensitivity mic stand so you can record wherever - even if you don't want to sit behind the screen.
ASSEMBLING THE PERFECT PC GAMING SETUP
For a PC gamer, playing games means more than just a comfortable gaming headset. It means taking a holistic approach to your desktop or laptop. Otherwise, you may not be able to play a game with certain equipment or gameplay requirements.
Without the right mouse or keyboard, you may not have as much fun when you play and you may fall a step behind the competition. The same applies to gaming monitors, which typically offer faster refresh rates and response times for smoother gameplay.
DOMINATE IN THE LATEST PC GAMES
Want to look at a dedicated selection of gaming tools? HP is also the best place for a competitive price on other gaming accessories in particular.
Packed with everything gamers need to make their computer into a proper gaming rig, you can quickly move up the leaderboards. Shop high-tech gaming monitors, try a high-functioning wireless mouse, or expand your mouse pad. We have all the gaming accessories you need to stay ahead.
COMPUTER ACCESSORIES FOR YOUR GAMING PC AND BEYOND
HP has it all, from the latest Windows operating systems to USB-packed docks. Now that you've checked out the latest PC accessories, don't forget to protect them with our extended HP Care Packs. Easily find a fair price on added coverage for your HP purchase, including printers, laptops, and desktops.
READ REAL, USEFUL CUSTOMER REVIEWS FOR HP COMPUTER ACCESSORIES:
Offers subject to change, not combinable with all other offers, and exclusions may apply, while supplies last. HP may impose a purchase quantity limit (for example, 3 units per order). Taxes, shipping, and other fees may apply as applicable. HP reserves the right to cancel orders arising from pricing or other errors. Prices, specifications, availability, and terms of offers may change without notice. Price protection, price matching or price guarantees do not apply to Intra-day, Daily Deals or limited-time promotions. These terms apply only to products sold by HP.com; reseller offers may vary. Items sold by HP.com are not for immediate resale. Orders that do not comply with HP.com terms, conditions, and limitations may be cancelled. Contract and volume customers not eligible.
HP's MSRP is subject to discount. HP's MSRP price is shown as either a stand-alone price or as a strike-through price with a discounted or promotional price also listed. Discounted or promotional pricing is indicated by the presence of an additional higher MSRP strike-through price.
Microsoft and Windows are US registered of Microsoft Corporation. Ultrabook, Celeron, Celeron Inside, Core Inside, Intel, Intel Logo, Intel Atom, Intel Atom Inside, Intel Core, Intel Inside, Intel Inside Logo, Intel vPro, Itanium, Itanium Inside, Intel Evo, Intel Optane, Iris, Itanium, MAX, Pentium, Pentium Inside, vPro Inside, Xeon, Xeon Phi and Xeon Inside are trademarks of Intel Corporation or its subsidiaries in the U.S. and/or other countries.
Not all features are available in all editions or versions of Windows. Systems may require upgraded and/or separately purchased hardware, drivers, software or BIOS update to take full advantage of Windows functionality. Windows is automatically updated and enabled. High speed internet and Microsoft account required. ISP fees may apply and additional requirements may apply over time for updates. See http://www.windows.com.
Earn HP Rewards on select products from the following categories: Laptops, Desktops, Printers, Business PC's, select Accessories, and select Ink, Toner & Paper. Exclusions apply, and program membership required. See details HP Rewards
The personal information you provide will be used according to the HP Privacy Statement
Coupon CPCDAMSRP20 20% off valid on HP.com internet, mobile, and Call Center purchases only. Coupon limited to two (2) eligible items in cart by a single customer email. Coupon valid from 12/3/2023 through 12/9/2023. Coupon valid on select consumer laptops, desktops, All-In-Ones, monitors, peripherals, and accessories except on excluded products. Any unused portion will be forfeited. Each coupon code limited to one use per customer, one code per checkout. Offer void where prohibited, taxed, or restricted by law. Non-transferable. Not retroactively valid on previously purchased items. Not valid for any resale activity as defined by HP.com. Coupons may not be used to purchase gift cards. May not be permitted with certain bundle offers. Products and support acquired by customer under these terms are solely for customer's personal use and not for immediate resale or sublicensing. Valid on HP.com, HP employee purchase programs, employee purchase programs, consumer, and business private stores. Not valid on all printers, all supplies (as defined by HP), and bundles. Coupon valid on the following products: 9SR37UT#ABA, 3FJ80AA, Z9H48AT#ABA, 9SR36UT#ABA, 6SG43UT, 6B8Y2AA, 4R009AA#ABA, 428K6UT, 5Z7E0AT, 6H1A5AA#ABA, N2Z63UT, 3L1E7AA#ABA, 6UW42UT, 1Y4D0UT#ABA, 4U9G9AA, 4U9G8AA, 53X26AA#ABL, 18H24AA#ABA, 600Q8AA#ABA, 6B8Y3AA, 6H1A4AA#ABA, 2JA63AA, 4Z7Z7AA, 616Y2AA#ABA, 6Y7L2AA#ABL, 3Z729AA#ABA, 50H98AA#ABL, 784Q9AA#ABA, 3B4Q5AA#ABA, 6E6F1AA#ABL, 1D0K9AA#ABL, 428K7UT, 1D0H6UT#ABA, G1K28AA#ABA, 1AJ39UT, T1A62UT, 3UU05AA, 265D9UT, 235N8AA#ABA, 3ML04AA#ABL, 3V1V2AA#ABL, 4X491AA#AC3, G6H45AA#ABA, 671R3UT#ABA, 2UN30AA#ABL, 1C1Y5AA#ABA, 4R184AA#ABL, 2V9E6AA#ABL, 6KD15AT, 2J875AA#ABL, 3J122AA#ABL, 7UH88AA#ABL, 7J595AA, 7J596AA, 7J597AA, 286H8UT#ABA, 7J594AA, 1P3K6UT#ABA, 4M0X5AA#ABL, 19U64AA#ABL, 26V63AA#ABL, 3V2X4AA#ABL, 1MZ01AA#ABA, 758A9AA#ABA, 286J1UT#ABA, 43N04AA#ABA, 43N05AA#ABA, 2PC54AA#ABL, X7W50AA#ABA, H6Y90UT#ABA, 1A215AA#ABL, H6Y89UT#ABA, 671R2AA#ABA, H4F02AA#ABA, 743T1AV_1, 77W47AV_1, 799J7AV_1, 7X8R5UA#ABA, 761Z2AV_1, 755C3AV_1, 76W27AV_1, 7M3S5UA#ABA, 74R53AV_1, 771X5AV_1, 8U7F1UA#ABA, 771T0AV_1, 7N4K9AV_1, 7X8R7UA#ABA, 76W28AV_1, 765S5AV_1, 70P73AV_1, 78G50AV_1, 7P8K6AV_1, 7X329UA#ABA, 841C9UA#ABA, 7Y8V1AV_1, 768R8UA#ABA, 7Y8V4AV_1, 7Y8X4AV_1, 794P5AV_1, 741Q9AV_1, 730S8AV_1, 841M7UA#ABA, 7F174AV_1, 7F1Z4UA#ABA, 77P01AV_1, 7G0E6UA#ABA, 7X9E9AV_1, 841M8UA#ABA, 4Z7X2AA, 4Z7X3AA, 4Z7X0AA, 519U0AA#ABA, 519U1AA#ABA, 4Z7X1AA, 4P5M9AA, 4Z7X4AA, 519T5AA#ABA, 51P68AA, 519T9AA#ABA, 519P1AA#ABA, 6X256AA, 6Y2G7AA, 6J680AA, 6J681AA, 6J682AA, 6J677AA, 6J679AA, 6J678AA, 6L366AA, 705L8AA, 4P5M6AA#ABL, 683L9AA, 70N24AA, 4P4F4AA, 4P4F7AA, 7D6H2AA, 4P4F5AA#ABA, 516L8AA, 4P5K0AA#ABL, 4S7T2AA, 4Z7X6AA, 4P4F1AA, 66X82AA, 4P5D8AA, 4P5D7AA, 4P5J1AA, 4P4F0AA, 4P5P2AA#ABA, 4P5P3AA#ABA, 4P5P1AA#ABA, 4P5L1AA#ABL, 727A8AA, 727A9AA, 66X81AA, 639N7AA#ABA, 639N8AA#ABA, 4P4F6AA#ABA, 4P5P0AA#ABA, 4P5N9AA#ABA, 4P5H6AA, 4P5L3AA, 639N5AA#ABA, 639N4AA#ABA, 639N3AA#ABA, 4P5K4AA, 77Z46AA, 77Z45AA, 75X30AA, 4P5K9AA, 77P41AA, 772K5AA, 84C19AA#ABA, 772C8AA, 772C9AA, 77T31AA#ABA, 77Y82AA#ABA, 77Y83AA#ABA, 77Y94AA, 77Y99AA, 76U50AA, 7K2F3AA, 82M86AA, 82M89AA, 77Y88AA, 77Y87AA, 7Y8H3AA, 7Y8G5AA, 780J4AA#ABA, 780K8AA#ABA, 780D9AA#ABA, 1F2J9AA#ABA, 34Y22AA#ABA, 2D9J9AA#ABA, 65P58AA#ABA, 65P62AA#ABA, 2H4B5AA#ABA, 65P56AA#ABA, 3G6W0AA#ABA, 65P64AA#ABA, 35D67AA#ABA, 3B1W4AA#ABA, 1Z978AA#ABA, 76D13AA#ABA, 780K0AA#ABA, 356D5AA#ABA, 2H1A4AA#ABA, 20W70AA#ABA, 22U58AA#ABA, 33P27AA#ABA, 4U9D5AV_1, 6M338AV_1, 6M9K9AV_1, 6M9S8AV_1, 6N0B3AV_1, 796M1AV_1, 7Y6Y8AA#ABA, 7Z6F2AA#ABA, 837N9AA#ABA, 64X66AA#ABA, 40Z29AA#ABA, 6N4E2AA#ABA, 64W30AA#ABA, 9VJ40AA#ABA, 64X69AA#ABA, 1B065AA#AC3, 6N4E8AA#ABA, 9VF96AA#ABA, 64W34AA#ABA, 6N6E6AA#ABA, 64X86AA#ABA, 453D2AA#ABA, 64W51AA#ABA, 3G828AA#ABA, 9VG12AA#ABA, 6N6F2AA#ABA, 50U19AA#ABA, 40Z26AA#ABA, 1C4Z6AA#ABA, 169L0AA#ABA, 1C4Z5AA#ABA, 1C4Z7AA#ABA, 4Q8N4AA#ABA, 189T3AA#ABA, 6N4D3AA#ABA, 1B9X2AA#ABA, 6N4D0AA#ABA, 1B9T0AA#ABA, 40Z32AA#ABA, 1A9M8AA#ABA, 3A6F7AA#ABA, 30A19AA#ABA, 1A9C9AA#ABA, 4Q8N9AA#ABA, 21Y56AA#ABA, 3Y0Q4A6#ABA, 6N4F1AA#ABA, 6N4C4AA#ABA, 6N4D6AA#ABA, 6N4C1AA#ABA. Contract and volume customers not eligible. These exclusions and Terms and Conditions are subject to change.